Real Estate- A Solid Investment? What lies ahead?
Much has been written about the economic collapse, and the role real estate and its affiliated industries such as mortgages & insurance played in the great recession. Hindsight is always a luxury, and what it shows me is that the real estate industry has weathered the storm, and unlike Wall Street which saw the collapse of major institutions, the real estate industry has not only survived but come out the other side stronger, more responsive to consumers, and ready for the next 25 years. Our industry, like most others should have seen the storm clouds ahead. Some did, but their cries fell on deaf ears. So, looking ahead, are we smarter? Is real estate a good investment? Should I be buying real estate now? I answer all three with a resounding YES! Here are some trends and thoughts. Recently, we had the pleasure of hearing Dr. Lawrence Yun, Chief Economist for the National Association of Realtors speak at the Mt. Washington Resort in Bretton Woods. He said we are continuing in a multi-year recovery and pointed to many factors that will drive and sustain this growth. Here are three of them.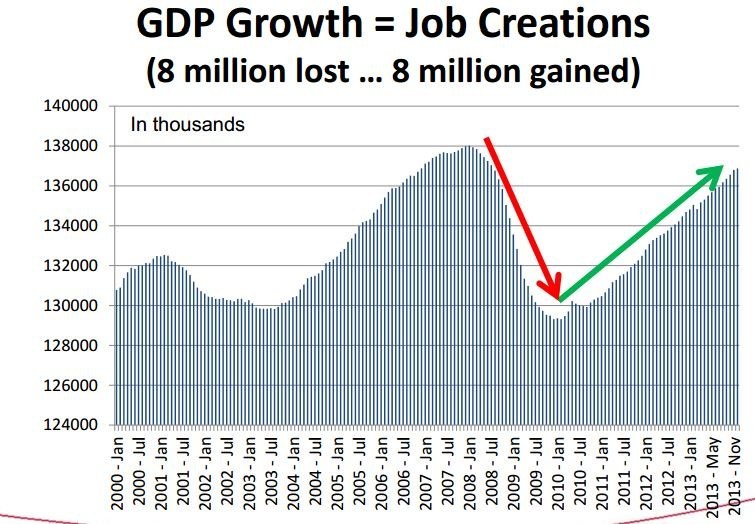 More jobs
- The US lost 8 million jobs in the great recession, and has now regained all 8 million of those jobs. New Hampshire enjoys one of the lowest unemployment rates in the nation, now under 5%, which many feel signifies full employment. Job growth, and increased wages will continue to fuel the housing recovery.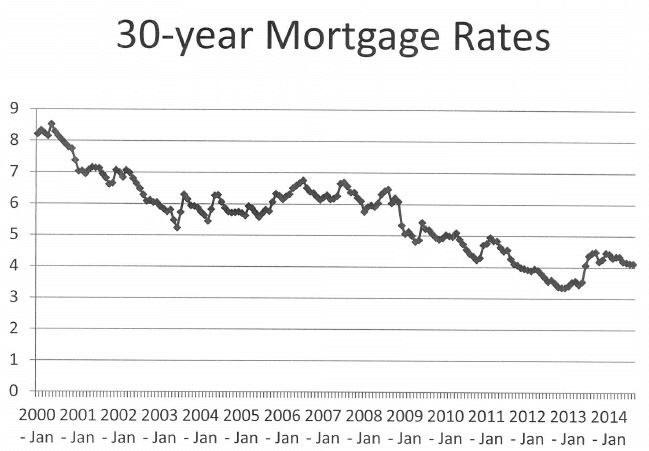 Manageable mortgage rates-
Mortgage rates continue to surprise experts with how low they are, and how long they have stayed low. Regardless of the underlying reason, locking in a low interest rate is the single best hedge against inflation a homeowner can do. Housing affordability is at a record high, and as wages increase, but your mortgage payment stays the same, a smaller bite of your household income will be allocated to housing. This single factor will help build more wealth to your personal portfolio than just about anything else.
Pent up demand-
In 2000, the US population stood at 282 million people, and they bought 5.2 million homes. In 2013, the US population grew to 316 million folks, and there were only 5.1 million homes sold. So, with a 10% increase in population, and a flat sales market, more households have chosen to rent. Rents have continued to increase, far out pacing the rise in home prices. In many markets, you can own for much less than the monthly rent. Those renters will be turning into Buyers, helping fuel a long and robust market place.
Taking a Look at Market Activity:
Year over year, New Hampshire residential sales have remained relatively static. Year over year, unit sales have declined a negligible .3%, averaging a little over 1100 units per month.  Unit sales peak in the summer, typically running around 1500 units per month in June, July and August. Prices have continued upward in a slow and steady manner. After a very strong 2013, where prices climbed 9.9%, 2014 YTD increase have leveled off at 4%, which we see as a very sustainable growth number. The median sale price in New Hampshire as of August was $233,000. Compared to the peak in 2005 at $276,000, the market has lots of room to grow.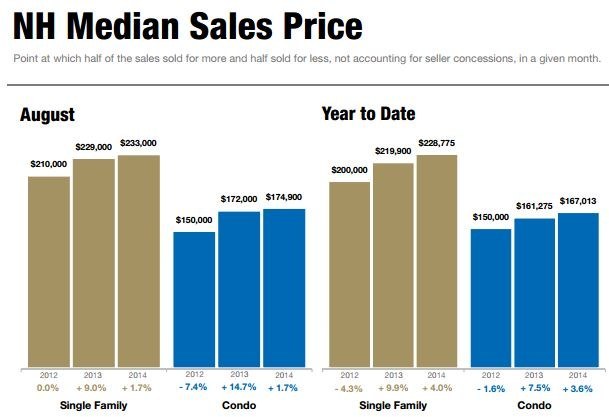 With all we have to worry about in the world right now, there are many reasons why the real estate market is not one of them. Real estate is seeing a slow, steady and very solid recovery. Energy costs are declining, the job market is strong in NH, many new developments, both commercially and residentially are taking shape all across the State, and interest rates are still so low that buying is now more affordable than ever. So, need a new place to celebrate the Holidays? Don't delay! Call to set up a confidential, no obligation consultation with one of our over 30 Certified Sales Specialists. We love to talk about the market, and would be happy to update you.
Feel free to contact us today!
About the Author:
Andy Smith
, Broker/Owner of Peabody & Smith Realty has over 25 years experience in the Real Estate Industry. In 2004 he was
designated as a Certified Commercial Investment Member (CCIM), a recognized expert in the disciplines of commercial and investment real estate. He is a founding Member of the NH Commercial Investment Board of Realtors, having served as a Board member, Treasurer, and President. In 2004 he was named the board's Realtor of the Year. Additionally, he is a past Director of the Northern New England Real Estate Network, is a member of the Littleton Rotary Club and serves on the Board of Directors for The Guaranty Bancorp/Woodsville Guaranty Savings Bank. Andy was awarded the Littleton Area Chamber of Commerce 2007 Business Leader of the Year. In his spare time he can be found on the tennis or squash courts, skiing, or riding one of his motorcycles.